Slots have become immensely popular in recent years. In fact, most casinos these days make more money off its slot machines than any other game. A single quarter slot machine in Las Vegas is said to bring in $10,000-$25,000 an year, if not more.
The rules to slots are quite simple. To play, all you need to do is deposit coins (usually 1-4) and spin the reels. In a physical casino, you can spin the reels by either pushing a button or yanking a lever, whichever you prefer. In an online casino, you would click on the button or lever using your mouse.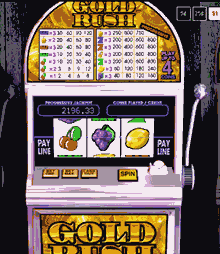 (Slot machine at the Cybersportsbook and Casino)
Each slot machine has a horizontal line across its window. If a certain combination falls on the horizontal line when the reels stop, you are a winner. Payouts vary by machine.
Slots generally fall into two categories: straight slots and progressive slots. A straight slot machine will pay your winning combinations according to a predetermined schedule. A progressive slot machine will pay you in a similar way unless you hit the progressive jackpot. When you hit the jackpot, you typically win a huge sum of money. In a progressive slot game, the jackpot builds up over time. A percentage of each coin dropped into the machine gets added to the existing jackpot. If no one hits the jackpot in a while, this progressive amount can become quite large. Some pooled jackpots in Las Vegas go up to millions of dollars.
It is this large progressive jackpot that is often times the main lure for many slot players. You may go a long time without making much money, but if you hit the big one, then you instantly win a horde of cash. It's a pretty attractive proposition, and an irresistible one for many gamblers.
For slot-lovers, we recommend Slotland, an online casino that specializes almost exclusively in slot machines. They offer some pretty nice jackpots, as well as $10 in free credits when you sign up.
Ready to play? Click here to choose a casino.